Welcome Message from Conference Chair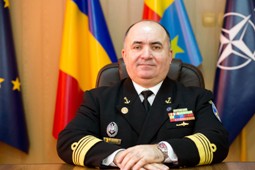 Superintendent (Rector)
Captain (N) Toma Alecu, PhD
Esteemed Guests, Dear Professors, Dear Colleagues, ladies and gentlemen!
Several years ago, Mircea cel Batran Naval Academy has onset a daring and ambitious initiative for the maritime academic and scientific community on regional and international level, by organizing the SEA-CONF international scientific conference, in replace of previous Nav-Mar-Edu event, but with a higher focus on naval, maritime and marine sciences as a distinctive brand of our institution and its relevancy on Black Sea naval and port business region. In the background motivation, we have to notice that in accordance with the international academic standards and criteria regarding the excellence in Higher Education, the scientific research still preserves its special importance and strategic relevance, in academic development, supporting the institutional rating but also the career development of the teaching and researching staff, for which rationale we have pursue to overcome all the impediments in keeping alive the full range of academic events as initially planned.
In fact, this year SEA-CONF conference will celebrate its 6th edition, but within a harsh, tougher and more challenging environment, both for its organizers as for its participants. As expected, these conditions have empowered our team into ambitious manner toward a stronger commitment to perform with the same results as we had used to deliver in the past, as a vivid prove of our adapting capability. Moreover, undergoing the pandemic times, we haven't withdrawn our engagement but we have successfully switched from the traditional exposing style to the digital environment endowment, seeking to value with priority less the academic knowledge exchanges based on social interactions, but deeper the value of the shared ideas of attending scientist and professors, into a flexible manner, keeping both the connection and the communication on higher levels against the social distancing rules.
From the outset this event has aimed to preserve its basic rationale, as a genuine binding agent for the academia, research & innovation and business sectors, succeeding to bring together more than 100 participants, who have chosen to share their valuable scientific research outcomes from such domains as military sciences, navigation and maritime transportation, engineering sciences (mechanical engineering, engineering and management), humanities and fundamental sciences. During this conference, 80 valuable scientific workpapers will be presented in particular, as to be further published in the Scientific Bulletin of Mircea cel Batran Naval Academy.
Mircea cel Batran Naval Academy, in its capacity to organize this event, seeks to stand as an important connector in the knowledge transfer chain process looking to become a leading actor in regional academic elite. On the other hand, Constanta City is a port city and also a strategic objective from the economic, touristic, social but mostly military perspective, a gateway to the Black Sea and a sensitive border line between the world's greatest players, especially going through rather hard times nowadays. Therefore, the added value that we pursue to provide by this event's results, could contribute to a better understanding of our potential contribution as maritime academic community to the wider development in Black Sea region and in European Union.
As organized today, in this harsh context, the SEA-CONF event looks to provide its participants with the great opportunity of strengthening the current position setting out new cooperation connections and institutional for peer-to-peer partnerships, among the academic communities. From different prestigious universities, from all over the world. Your presence here makes this milestone event doable, proving that even based on physical or digital attendance the effect could be similar when people are strongly committed to their noble purposes, for which reason we gratefully thank you!
We hope to keep SEA-CONF included in our event agenda a long time from now on and we commit ourselves in reply to grow and to strengthen the status of this conference together with the Naval Academy notoriety as regional pillar in the educational and scientific process. Through this international conference we will always be looking forward to provide you with the best impacted opportunity for sharing your research results as well as your ideas to a wider audience of highly scientific qualification. Your work will surely bring on this occasion, in the scientific landscape new ideas, projects, and strategies that will contribute significantly to different areas of knowledge and expertise.
The yearly growing international participation on this conference proves an upward trend, a greater uprising scientific and academic potential and impact and also a permanent increasing interest for meeting the international scientific requirements and demand. I am convinced that each and every one of you represents remarkable institution with significant scientific achievements and soundness, and your attendance to our event will strongly contribute to a wider and deeper development of joint projects in the future.
This year's edition has a higher emotional charge compared to all other editions so far, due to the COVID-19 pandemic and its implications. This context should not hamper our efforts but should challenge us for continuing the scientific research process in the fields in which we are operating, motivating our community to identify new knowledge areas to be searched and exploited in the future, overcoming the impact of pandemics against the smooth running of society worldwide. The challenge in fact is not about finding the limits of our academic life, but about exploring and achieving new ways in connecting people and their ideas on regional and global scale, facing the future very optimistic even much sooner than dreamt.
I wish you all good luck!
Updated: 05 Jan 2021